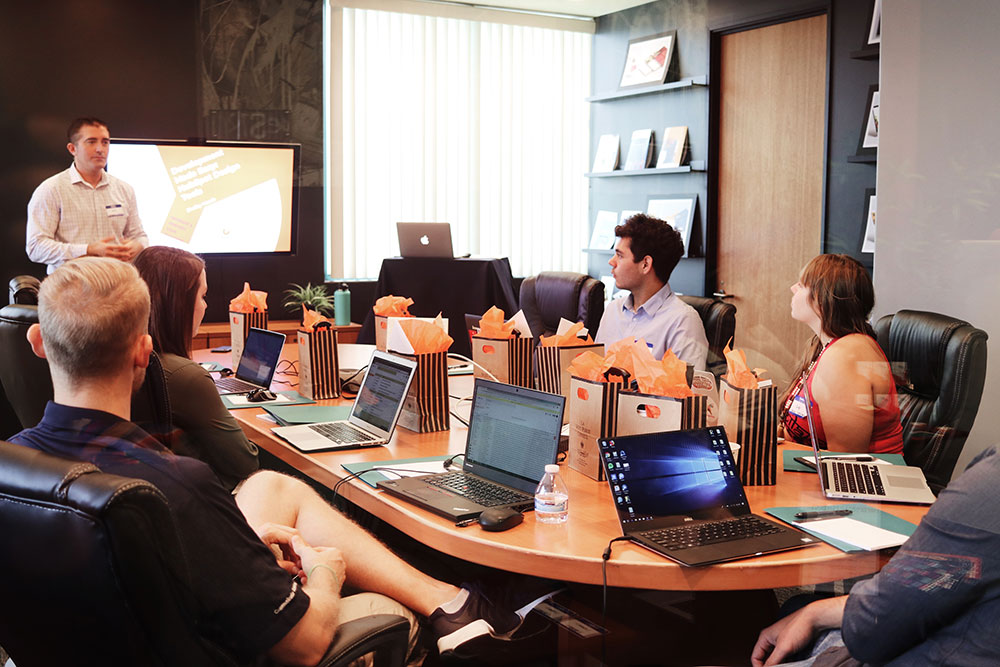 It's been widely proven that employee recognition programs can positively impact a company's retention, culture, and productivity. However, what starts out as a well-intentioned initiative can quickly fizzle out if not designed and implemented effectively, leaving HR managers scratching their heads and wondering why the program didn't work.
Here are ten tips to keep your employee recognition program moving on the right track towards achieving maximum results:
1) Carefully plan a solid strategy
Even a simple recognition program needs a strategy. Including clearly defined metrics that align with the company's overarching aspirations is a great starting point. When employees understand how their performance directly affects your organisation's mission, they see that everyone is on the same team, working towards something bigger than themselves. As an HR leader, your recognition efforts will yield positive results and, in turn, your employees will understand how their roles have meaning within the company.
2) Clearly and regularly communicate
Many companies make the mistake of generating excitement about their new recognition program, but then forget how important it is to continually remind employees about the program, its benefits and how it fits with the company's overall mission. In addition, program rules must be clearly communicated to all participants and stakeholders. Nothing is more frustrating than a program with confusing goals or unattainable awards. Communication must also be aligned to your audience, so that your messaging is appropriate to different targets — whether it's senior management or frontline employees.
3) Consider instant or on-the-spot rewards
It's important to offer incentives for employees to reach goals, but long-delayed rewards can have a negative effect. Making someone wait until the end of the year for a service-anniversary award, for instance, may irritate employees. Instead, consider offering on-the-spot rewards – whether it's a certificate of merit, a couple of cinema tickets, or an email of appreciation. Timely recognition of people when they are doing something great is important.
4) Inspire with relevant rewards
Don't waste your investment on rewards that aren't meaningful to employees. Instead, find out what they really want and would appreciate. For instance, your Millennial new hire in Sydney has different tastes than your seasoned, Baby Boomer employee in Melbourne.
5) Develop a fair and justified rules structure
Don't set impossible goals for your employees with your recognition program. If the rules are difficult to understand or hard to attain, then the program will become negative and will quickly de-motivate your team. Also, the ability to earn awards should be fair and transparent – that is, equal across all departments and among all levels.
6) Manage program efforts within a consistent single platform
Often, senior management isn't aware of discretionary awards being handed out at the middle management level or what's being used by individual business units. These informal recognition events – including birthdays and company anniversaries are often distributed on a one-off basis. But combining all recognition efforts into one organised, seamless, web-based system controls costs and creates consistency across the company and helps gauge results.
7) Ensure senior management buy-in
It's essential to get senior management on board from the start of your employee recognition program. Leadership actions will internally set the tone for success, and programs that embrace corporate culture from the top down will drive employee buy-in.
8) Leverage technology to boost employee engagement
Employees want to share their achievements with friends and access their program information and award opportunities at their convenience. So, make use of social media, collaboration tools and mobile technologies as much as possible to boost employee engagement and productivity.
9) Encourage and welcome continuous feedback
A successful program should continuously gather information and feedback in order to make changes along the way. Benchmark surveys can help form your strategy prior to launch, and surveying employees at the start can ensure you address any questions early on. Continue to maintain regular contact with your workforce as the program progresses.
10) Develop measurable results
You can't know whether an employee recognition program is working effectively without gathering and analysing the results. So, make sure you determine the right metrics for your program's success, and measure regularly and consistently through web-based reports, dashboards, analysis and survey results.
Today's most successful organisations embrace employee recognition, reinforcing it with user-friendly web-based systems that track individual performance metrics and compensation, communicate and promote best practices, reward desired behaviors, and celebrate success.
With a thoughtful plan, your organisation can boost employee engagement and productivity — and reap the rewards of higher retention, lower recruiting costs, an expanded customer base, higher revenues and enhanced profitability.
Brownie Points software and services focus on recognition and positive behaviour programs to improve business performance. To learn how we can help your business, call the team today on 03 9909 7411 or email us at info@browniepoints.com.au